Albuquerque Journal, Monday, October 4, 2010
Heart Found the Way to
Long-Lost Family's Reunion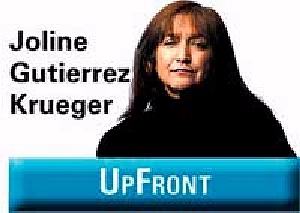 Pat Reidy knew that someday her past would catch up with her.
She hoped it would, anyway.
She was a teenage girl in college when she gave up her baby, a girl she named Linda Adele.
"My parents gave me no choice," the normally salty, smiling 84-year-old says as the smile fades and the tears come. "I had to sign a paper saying I would never look for her."
She looked anyway, into the nameless faces of passing girls and women she imagined might be her daughter's age. She hoped her daughter might one day come looking for her.
"I waited," she says. "I waited."
The years passed. Reidy married a good man, raised two more daughters and four sons and never told a soul about the child she gave away 66 years before.
History, alas, repeated itself when Reidy's next-born daughter got pregnant in her early 20s and gave up her baby girl for adoption.
Reidy had not forced her daughter to do so.
"She was gone, doing her own thing. She didn't tell anybody," she says. "She gave me nothing."
Somewhere out there, then, were two women from two generations, untethered from their roots, disconnected, for better or worse.
Although it took many years, much effort and a lot of luck, they managed the improbable and found one another. Because in this big needle-in-a-haystack world, sometimes only the heart knows the way.
For the first time since they discovered each other's whereabouts, Reidy, daughter Sally File and granddaughter Sara Confer came together at last to see each other face to face and to put the pieces of their life's puzzles together again.
As I sat with them last Thursday in the backyard of File's Albuquerque home, it's as if they had never been apart. They laugh with the same hearty guffaw. They move their heads, their hands as they talk, which is almost nonstop and jovial. There is an infectious joy about them that comes from feeling comfortable, connected.
"She is my very best new friend," File, 66, says of Reidy, who flew in late last week from her home in Brandon, Fla. "And Sara, well, she fit right in."
Confer, 43, is the last to be connected. She was 13 when she found the adoption papers for Baby Girl Rosalier tucked away in an old dresser stored in the family garage. She had always known she was adopted, and that was fine. Her life had been a happy one.
But still.
It was years before she began her search, knowing only the Rosalier name and some sort of connection to Texas.
The Internet was not in existence yet, so she called directory assistance for Texas cities she chose at random looking for people named Rosalier.
Eventually, and quite remarkably, she found two aunts (including File) and Reidy. But the discovery of her mother did not go as planned.
"She didn't remember the day I was born," says Confer, a divorced mother of two daughters from Rocklin, Calif. "I just shut her down. But I had found my aunts and my grandmother, and that was plenty for me."
File had always wanted to know her birth family, but not because she was unhappy.
"I wanted to know who I looked like," she says. "I was so different in size, in color, in the way I learned and the way I acted than my family. I felt like a square peg trying to fit into a round hole."
She didn't begin her search until she was an adult and had the blessing of her adoptive mother just before she died. File petitioned the courts to open her adoption record.
Her quest led her to create Operation Identity Search and Support, and she has helped more than 8,000 others find their birth parents.
In October 1994, File found Reidy.
"I called her and said, 'I don't mean to cause you any problems or pain,' " File says, " 'but does the name Linda Adele Jones and the date April 14, 1944, mean anything to you?' And Pat starts screaming, 'Oh my God, oh my God! What took you so long?' "
File says she was stunned to learn that Reidy had known the search had lasted two years.
"She asked me how I knew, and I told her, I felt it in my heart," Reidy says. "Best day of my life."
The three women marvel at how much alike they are. All three have been or have aspired to be retail store buyers. All three wear Paloma Picasso perfume. They love to decorate. Each professes to possess an eerie psychic sense.
File says she was stunned to find out that the bright floral print she had selected for her draperies was the exact print hanging on the windows of Reidy's home in Florida.
"Genetics is genetics," File says with a laugh. "You can't escape that."
But there's a bittersweet ending to their remarkable story. Because sooner rather than later there could be an ending none of them wants.
File is battling fourth-stage lung cancer. Doctors gave her six to nine months to live, she says.
That was two years ago.
"I'm still here," she says with a smile. "I'm not in pain, just some trouble breathing. I'm just going with the flow, and I know that God has a plan for me."
For now, that plan is for the women to stay in touch, to marvel at the past but hold tight to as much of the present as time will allow, together.
UpFront is a daily front-page news and opinion column. You can reach Joline at 823-3603, jkrueger@abqjournal.com or follow her on Twitter @jolinegkg.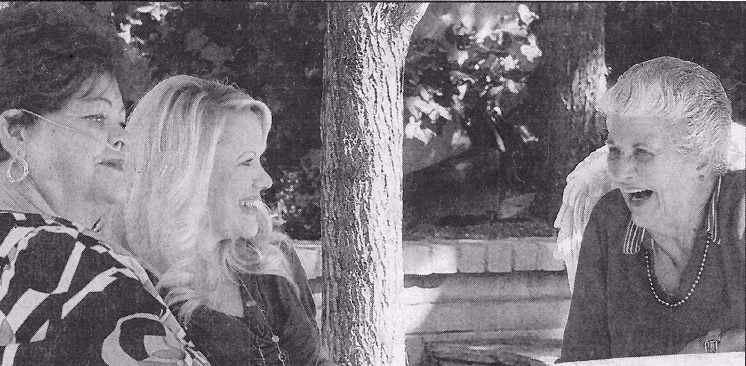 From left to right: Sally File, Sara Confer, and Pat Reidy, at File's Albuquerque home, where the three gathered for a visit. File is Reidy's daughter who was put up fro adoption as a baby. Confer, who was also put up for adoption, is Reidy's granddaughter and File's neice. (Photo: Morgan Petroski/Journal).

© 2010 Albuquerque Journal